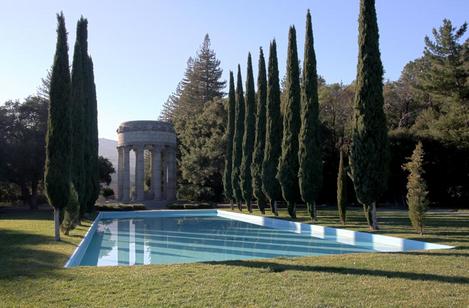 Pulgas Water Temple is a stone structure built by the City of San Francisco in the 1930's as a monument to the engineering marvel that brought Hetch Hetchy water to the Bay Area. Water travel through the system more than 160 miles from the Sierra Nevada Mountains.
Besides the majestic roman column temple structure, you'll also find a beautiful reflection pool lined with tall trees. You can also see the roaring aqueduct through a fence. Plugas Water Temple is a popular place for wedding ceremonies.
Hours:
The Pulgas Water Temple is open to the public from Monday to Friday, 9 am to 4 pm. The parking lot is closed on weekends.
Directions:
From I-280, take the Edgewood Road exit. Drive west on Edgewood Road to Canada Road. Turn right on Canada Road and drive approximately two miles to the temple. The entrance is on your left.
Note that Canada Road is closed to traffic for cyclists every Sunday (9 am to 3 pm) from November to March, and from 9 am to 4 pm from April to October.
Call 650-872-5900 for event rental or more information.
---